Winter Birds Wonderland
From a photography point of view I just love snow. It provides such excellent opportunities for different images that whenever we get a little snow down here in the South East I cannot wait to get the camera out. Luckily after arriving home on friday night to the sight of Fieldfares in my garden, I wasn't going to need to travel far. I decided I would set up a temporary hide at my conservatory door before dawn the next day and attempt to take some shots.
I got up when it was still dark outside, filled feeders and scattered food for all the birds that would be struggling to find food in these harsh conditions and made sure there was a hole in the ice of the pond for them to reach water. I then organised apples where I hoped I would be able to get some decent photos. After setting up a sheet at the door with my bag hide pegged to the bottom (it's thin so is handy to see through without being seen) I then went back to bed for a few hours until the light improved. The day was overcast and gloomy but I couldn't wait to see if the birds had returned. Luckily a quick glimpse round the curtains showed that they had indeed come back to feast on the apples. I grabbed my kit and literally slid along the conservatory floor to keep my profile down so I didn't spook any birds. I hadn't photographed them before so had no idea how flighty they may be.
I slowly moved the lens out under the hide and was greeted with the following –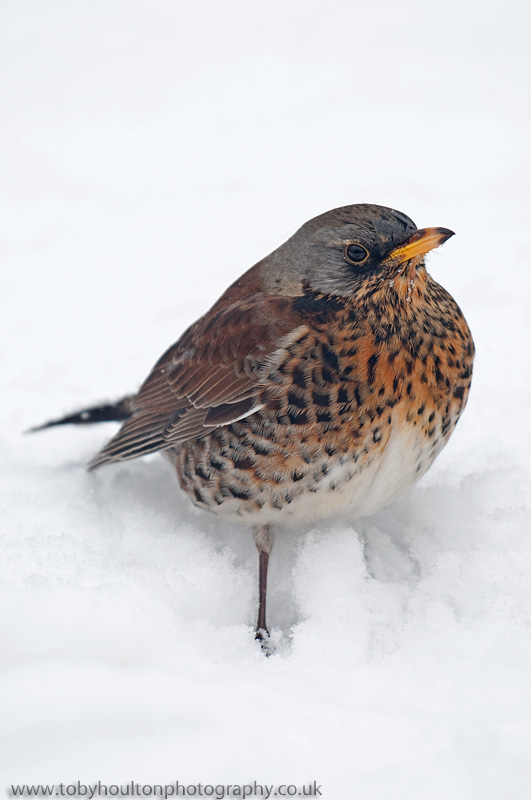 Perfect! so not only had the birds returned but they were busy chasing any bird that came near their apple stashes. I didn't realise they were so aggressive but was treated to almost two days of them chasing anything that came close. They would often spiral into the air in a burst of feathers as they fought to protect their area. At times the birds were so close that I couldn't even focus or fit them in the frame! That is a rarity.
This is the view that greeted any other bird that tried to get near the apples –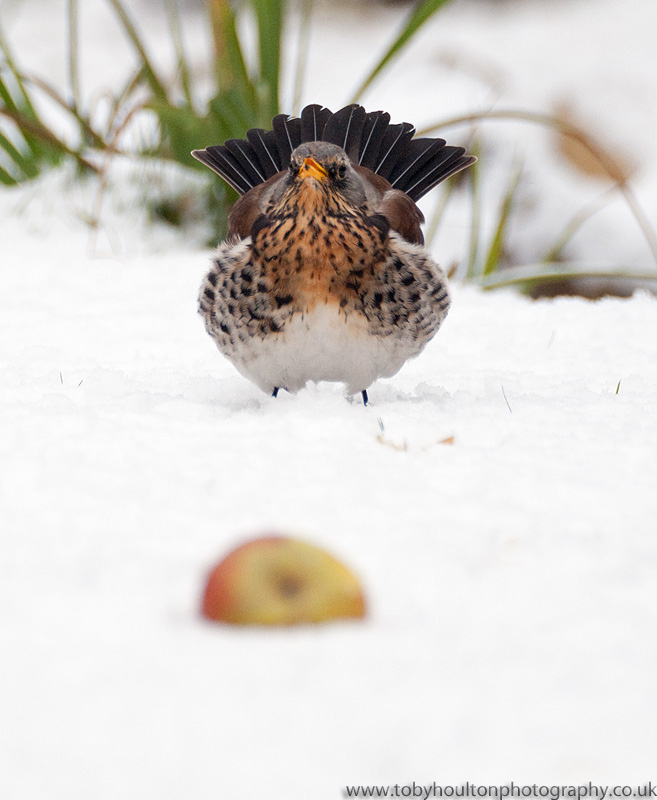 Although these birds do move in large flocks I believe I didn't have more than six in the garden at one time but as my garden isn't that large that's probably down to available space.
Here are a few more shots of this beautiful bird.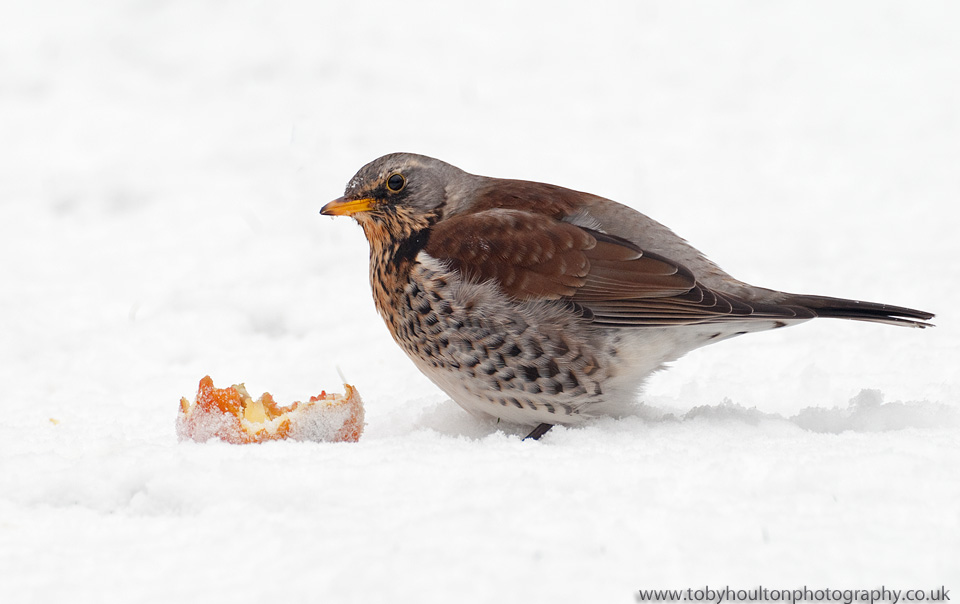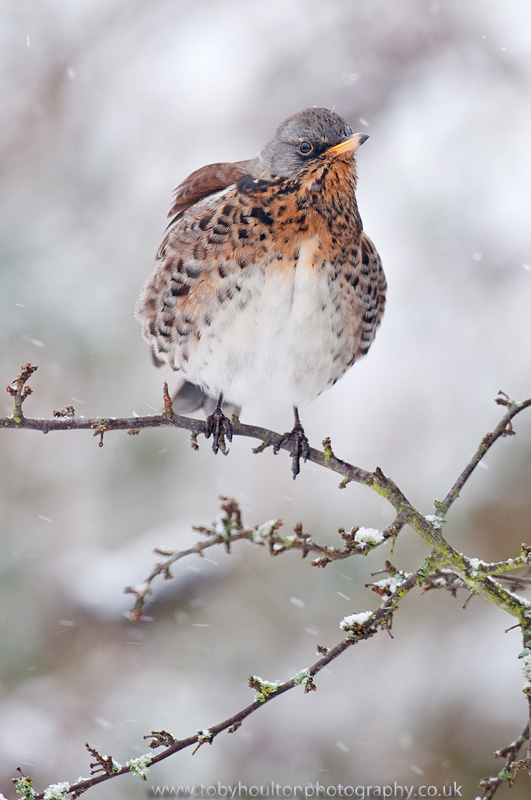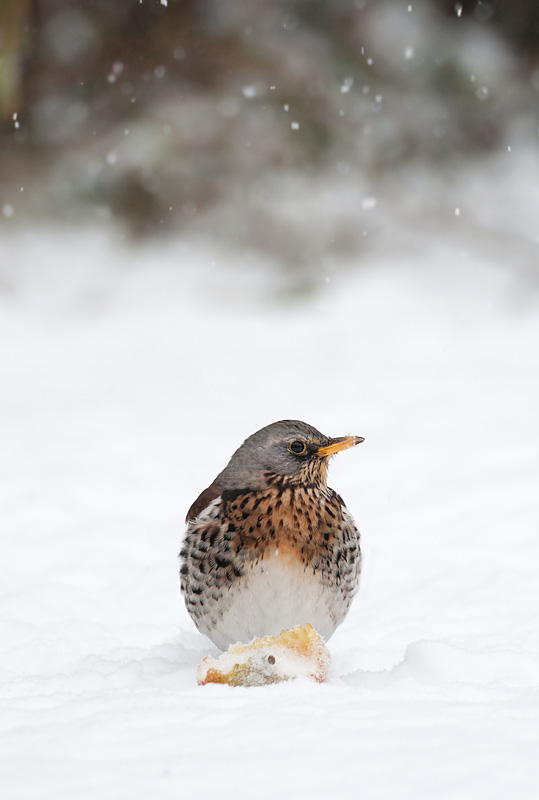 Of course all the other birds were struggling to find food also but this Blackbird did manage to get close to the few berries left in the garden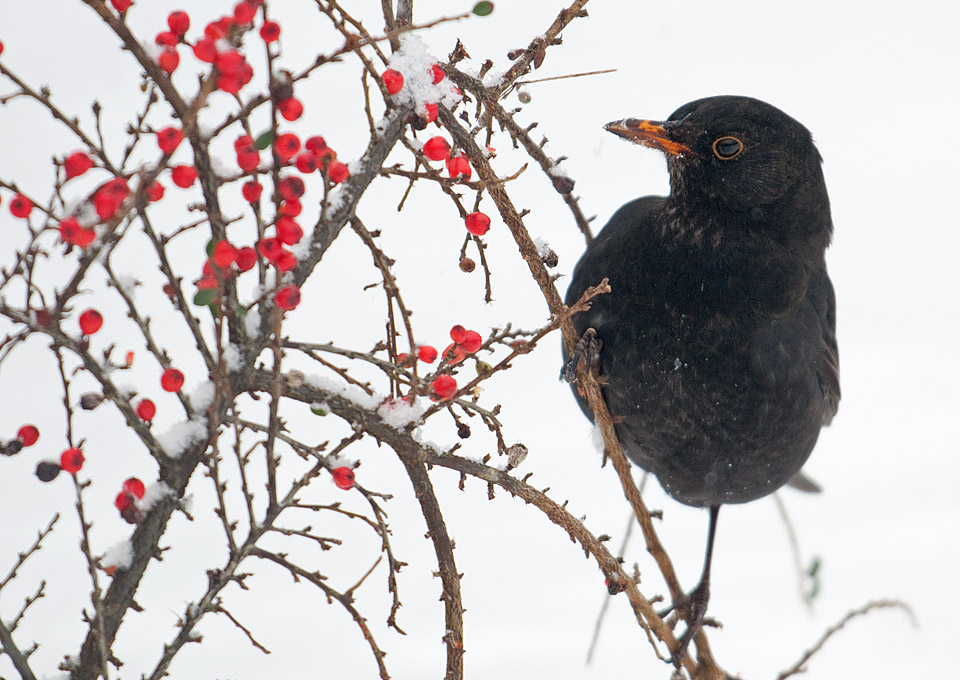 ..and this Greenfinch resorted to having a go at the Rosehips that were still available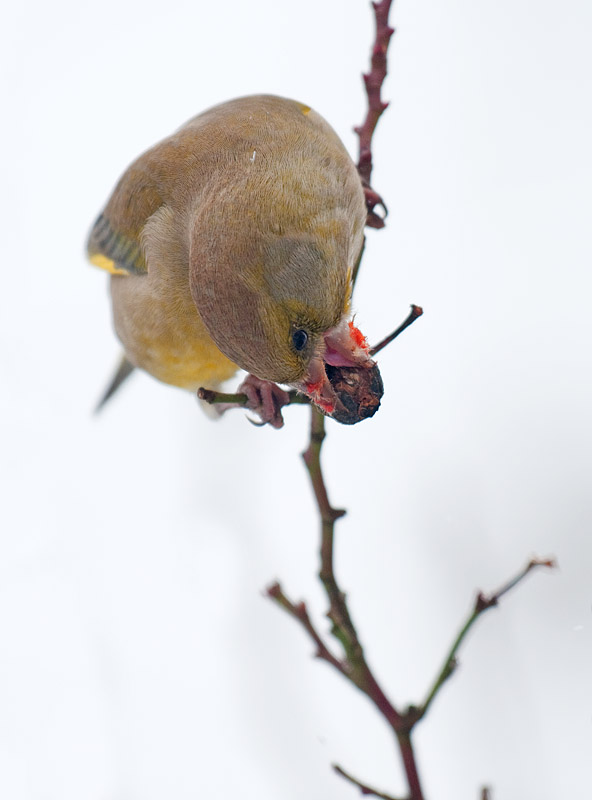 Finally one visitor that I was not surprised to see was a Sparrowhawk. With such a concentration of potential targets in the garden one was bound to put in an appearance. On the Sunday afternoon the panic cries of the birds as they scattered into the dense bushes told me trouble was near. I hunted with the lens to find this fantastic male sat in the apple tree looking a little bemused. He wasn't successful this time but on his return visit just an hour later he made a kill. I don't begrudge him that at all, all birds need to eat and I was pleased that he wouldn't go hungry in the worstening conditions.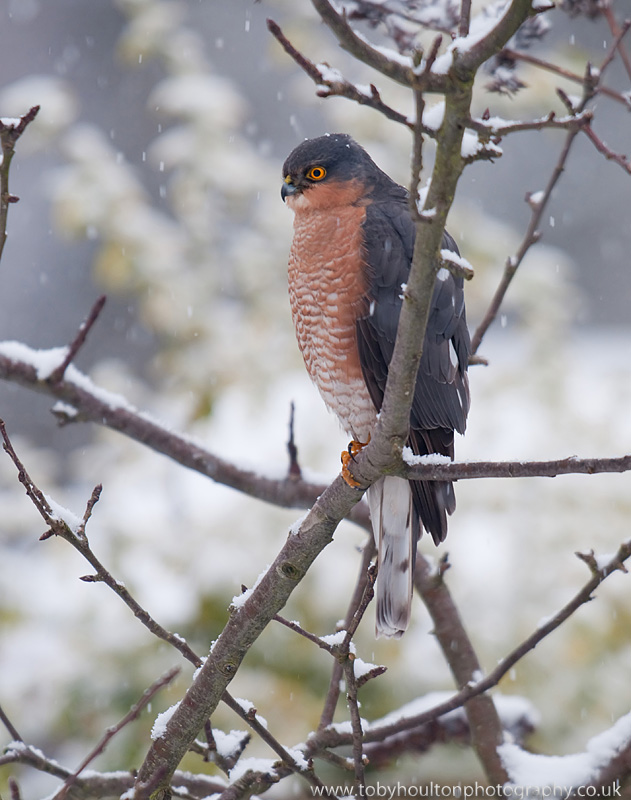 I didn't get a shot of his kill as I had my macro lens on (yes the Fieldfares were that close at times) but I think this portrait certainly shows him at his best.
All images taken with a Nikon D300 and a Sigma 500mm f4.5 lens.